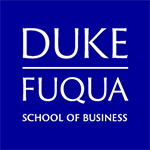 We invite you to learn about Duke's Fuqua School of Business's top-ranked, full-time Daytime MBA program!
Join Senior Associate Director of Admissions, Meghan Pollard and Regional Director for East Asia, Jodie Zhu, to learn about the admissions process and specific application advice for Chinese prospective students. You will also have the opportunity to hear from current students and alumni, who will give insight into the Team Fuqua experience and the impact it had on their careers.?
You may be eligible to receive an application fee waiver if you register for and attend a Fuqua Admissions Event.
Duke Daytime MBA Information Session for Greater China - Online (9/11)
Date: Friday, September 11, 2020
Time: 20:30-22:00 (China Standard Time)
RSVP: Click here