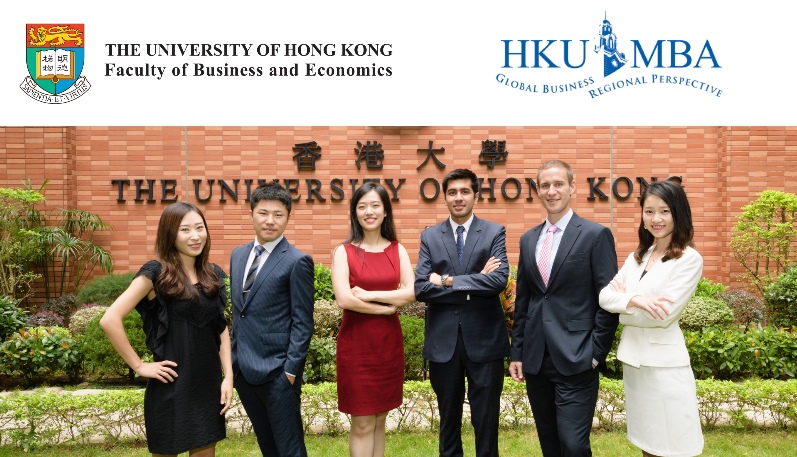 Advance your career with a world-class business education.
HKU MBA – Top MBA programme ranked amongst all major rankings:
No. 1 in Asia for the 9th consecutive year
The Economist - Full-time MBA Ranking 2018

No. 1 Worldwide
Times Higher Education and The Wall Street Journal Business School Report 2018
"Top Tier: One-Year MBA Degrees"

No. 1 Highest 10-Year ROI & Shortest Payback Period: MBA, Asia-Pacific
QS TopMBA.com Return on Investment Report 2018

No. 13 International School
Forbes - "The Best International MBAs: One-Year Programs" 2019

No. 13 worldwide
The Financial Times - "Top MBAs for Finance" 2018
In this live webinar, we will share information on HKU MBA programme offerings:
1-year intensive programme structure
The London and New York tracks: An expanded global vision
Dedicated career services
Selection of diverse electives to keep up with the technological development in business today, e.g. Artificial Intelligence and Big Data for Business Leaders, Marketing for Tech-Intensive Industries, and FinTech related courses
Business incubation for entrepreneurs
China Immersion Programme: Students will visit various cities in Mainland China during their first nine months where they will have company visits, executive talks, alumni sharing sessions and cultural activities.
Merit-based Scholarship: All full-time MBA applicants are automatically considered for a merit-based scholarship and separate application is not required
HKU MBA Live Webinar - Online (11/19)
Date: Nov. 19, 2019 (Tuesday)
Time: 7:30 pm - 8:30 pm
Remarks: Confirmation email of the webinar will be sent at a later stage.
Register: Click here
The full-time MBA programme is an intensive 1-year programme with three tracks.