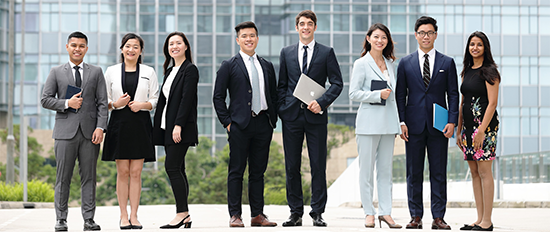 Take Your Career to New Heights
One of the world's best MBA programs is just at your doorstep. Why not take this opportunity to earn a world class degree while expanding your network in Hong Kong and Asia?
Ranked in the global top 20 by Financial Times for 12 consecutive years, HKUST MBA will grant you the global business acumen, digital competencies and leadership prowess that are essential to succeed in today's increasingly competitive market.
Join Our Open House Event (Nov 2)
Info Session, Sample Class & Networking Lunch
Get a 360-degree look and feel of our MBA programs at the HKUST Clear Water Bay Main Campus to:
Learn more about our Business x Technology track
See how HKUST MBA can accelerate your career advancement
Experience the quality of our education through the sample class

HKUST MBA Open House - Hong Kong (11/2)
Date: Nov 2, 2019 (Sat)
Time: 10:00 - 14:30
Venue: Lee Shau Kee Business Building, HKUST Main Campus (Map)
RSVP: Click here
What I love about HKUST MBA
Andrea Fung
Class of 2019
Assistant Vice President, Strategic Planning, CEO Office, DBS Bank

"Social Entrepreneurship and Venture Philanthropy is a unique course that partners students with social enterprises for real world business projects. My team proposed a brand-new Community Nursing Care model in hopes of supporting elderly to age well at home with dignity and pitched the idea to the funding committee. As the winning team, we are honored to receive the funding of HKD250k for our partner client.

While the MBA training has contributed to my career growth, it is the realization of how much impact I can make and the importance of lifelong learning that I found the most transformative to my professional development."
Experience Our World Class Education
Sample Class Topic: Cryptocurrency, Blockchain and Their Business Applications

The New entrepreneurial technology ventures like to describe themselves as 'disruptive'. Among them, no technology today is as potentially revolutionary as the cryptocurrencies and the blockchain. These new systems can be the game changers for conventional money, payments, and record-keeping. Most importantly, they challenge the conventional role of trust in transactions.

In this class, we will walk through:

- history of cryptocurrency
- interdisciplinary nature of blockchain
- insights from academic research

Speaker:

Prof. Allen Huang
Ph.D. in Business Administration, Duke University
B.S. in Electronics, Peking University
Teaches MBA Course: Cryptocurrency, Blockchain and Their Business Applications