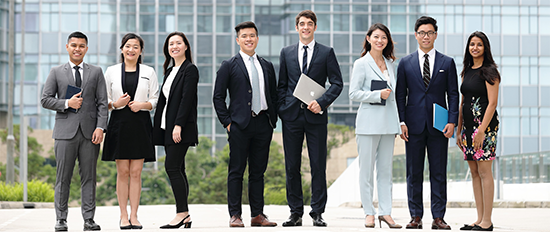 Meet Financial Times' #1 MBA in Hong Kong
Join HKUST MBA Info Sessions in China!
Why study an MBA in the West when your future is in Asia?
Ranked in the world's top 20 by Financial Times for 12 consecutive years, HKUST MBA offers a highly international student body, world class faculty and an Asia-focused network to develop your global career in the world's fastest growing region.
HKUST MBA Info Session - Beijing (10/19)
Date: Oct 19, 2019 (Sat)
Time: 10:30 - 12:00
Venue: Kerry Hotel, Beijing (Map)
RSVP: Click here
HKUST MBA Info Session - Shanghai (10/20)
Date: Oct 20, 2019 (Sun)
Time: 14:30 - 16:00
Venue: Pullman Shanghai Jing An (Map)
RSVP: Click here
HKUST MBA Info Session - Shenzhen (10/24)
Date: Oct 24, 2019 (Thur)
Time: 19:00 - 20:30
Venue: Four Seasons Shenzhen (Map)
RSVP: Click here
What I love about HKUST MBA
Ruby He
China, Class of 2019
Pre-MBA: Senior Associate, PwC Beijing Office

Our team joined the IESE-Roland Berger International MBA Case Competition in Barcelona and came first among nine top global MBA teams. As the winners, each of us received an internship opportunity at Roland Berger. Thanks to the case-based teaching approach at HKUST, we went through numerous real-world business cases and became highly proficient in analyzing all sorts of companies and delivering effective presentations. This practical training prepared me well for both the case competition and my internship at the global consulting firm.
Apply to HKUST MBA Today
We have started accepting applications for the class commencing in summer 2020. Below are our application deadlines. International candidates should apply in the first two phases to leave sufficient time for student visa application.

Phase 1
Phase 2
Phase 3

Full-Time MBA Program

Nov 13, 2019
Jan 15, 2020
Mar 18, 2020

MBA for Professionals
(Weekly Part-time Program)

Dec 4, 2019
Feb 12, 2020
Apr 22, 2020

*Early-bird application fee applicable for Phase 1.